Coco Chanel was always fascinated with the performing arts and she was an enthusiastic supporter throughout the theaters in Paris. By 1920, Chanel had already established her name as an important French fashion designer with the opening of her famous boutique at 31 rue Cambon. In that same year, she met Ballet Russes director Sergei Diaghilev and composer Igor Stravinsky which set off a collaboration with the ballet company by designing dance costumes (Vaughan, 2011). Here are a few of the costumes she created for the Ballet Russes.
Le Train Bleu (1924), choreographed by Bronislava Nijinska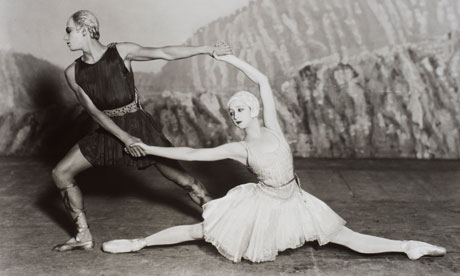 Apollon musagète (Apollo, 1928), choreographed by George Balanchine
Photo sources: (1, 2, 3, 4, 5, 6)
I would love to see more collaboration with clothing designers and choreographers. It would be a wonderful facet  for choreographers to polish within a dance work as well as an interesting challenge to create/craft costumes that dancers would be able to move in.
Reference
Vaughan, H. (2011).  Sleeping with the enemy, Coco Chanel's secret war. New York:  Alfred A. Knopf.